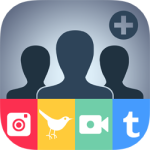 Version: 1.0
Price: Free
Category: Social Networking
Followgram for Instagram, Twitter & Vine – Get Thousands of Followers & Likes
• Most effective way to get 1000 of followers and likes on your photos for free •
Boost and track your followers on Instagram, Twitter and Vine! FOR FREE!
To be popular on social sites is what we all dream about. Fortunately, Followgram can let you realize this dream! You can promote your account through the app and be visible to thousands of other users. It can get you thousands of genuine followers, likes, favorites, retweets and revines. You can also track new followers and who unfollow you.
Followgram is one of a kind app that helps you get more followers and become a social superstar. Followgram is the easiest and fastest way to get more exposure for your Instagram, Twitter and Vine profile.
Unlike other like4like and wowlike apps this is:
– Support many of major social networks like ig, Twitter and Vine
– Does not put any limitation on the amount of likes you can get
– Simple, free and lightweight
– Discover and follow other interesting users and earn coins you can use to promote
– Get likes on your insta photo and snap
– Get more revine on your video
– Boost your retweet and favorites
How It Works:
1. Add your account
2. Follow and like other users snap, video or tweet to earn coins! The more your action the more coins you earn.
3. Spend your coins to promote your account.
Disclaimer: Followgram is an app in the use of Twitter exposed API. It is not endorsed or certified by Twitter. Followgram is not affiliated with Twitter, Inc.