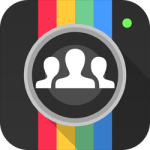 Version: 1.1
Price: Free
Category: Utilities
InstaFollow Booster – Boost Instagram Followers and Likes + Wow Gram wowLikes
• SALE SALE SALE – FREE FOR THIS WEEK ONLY •
Want to gain more followers on Instagram? InstaFollow Booster can make you a next big Instagram celebrity. It can get you thousands of REAL followers every day. It helps you get more followers while you follow other Instagram friends. This app hasn't used any computer robot or anything like this; it uses REAL people like you. They are also instagram users following you!
How app works:
1. View other Instagramars profiles and follow them to get Coins.
2. Spend your coins to get more real followers on Instagram.
3. Sit back and watch how you gain thousands of Instagram Followers.
The more coins you earn, the more followers you can get! It's that easy!