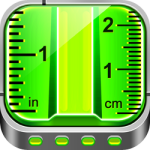 Version: 2.1
Price: Free
Category: Productivity
Ruler : Measure With Phone
With a single touch your iPhone or iPod Touch turns into a Top Accurate Ruler. EVERYONE NEEDS A RULER!
Ruler : Measure With Phone is beautifully designed scrollable ruler allowing you to take measurement quickly and easily. This is a basic ruler that helps you measure objects using your device screen. The ruler app is providing you with a basic 10 inch/25 cm ruler. We've added longer ruler types, so you can upgrade and add the one you like to the app. Your iPhone or iPod Touch is small doesn't mean it cannot be used to measure longer objects.
Ruler is an handy pocket tool used in geometry, technical drawing and engineering/building to measure distances and/or to rule straight lines. The Ruler app has simple and elegant interface allows you to measure area of room space, snap or photo, windows, TV screen and other object. It is easy to measure length in inches, centimeter and millimeter.
◉ App Features ◉
► 3 new exciting themes
► High Precision support drag and scroll to comfortably measure large objects
► Customizable pair of units to display
► Measure length in multiple type of unit like inches, centimeter and millimeter
► Handy for everything
► Different ruler color schemes
► Instantly switchable ruler scales
► Retinal display, high resolution UI for iPhone and iPod Touch
► Instruction for measuring objects larger than your device
And Much More
==== INSTRUCTIONS TO MEASURE LARGE OBJECTS ====
1. Align phone where the object start
2. Place your finger on screen
3. Move or slide your iPhone
4. Reach to the end of the Object, its simple and easy.
What's New in Version 2.1
● Added support for iOS 7
● Added 3 new exciting themes
● Fixed minor bugs