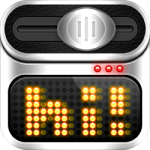 Version: 1.0
Price: 0.99
Category: Utilities
Smart LED – The LED Banner App
• Most elegant and handy LED banner display message ever created for your iPhone •
Smart LED is the perfect companion app which turns your iPhone or iPod Touch into a beautiful dot matrix L.E.D. running display banner. It enhances the experience with your L.E.D. screen emulator and provides a lot of additional functionality. This application can be very useful to communicate with someone who is far from you. Great for party places, say something to your friends when they can't hear you, as in the disco bar, in classroom, in a business meeting, etc. Simply enter your text message, set options for the best display, and press the "Power" button. That's it! Smart LED app will scroll your L.E.D. message across the screen.
Critic's say:
You'll love this app if you like iLED and LEDit banner apps.
This led banner app offers even a built-in flashlight to light up the darkness! With the help of vibrating feature you should know when the led message has finished scrolling (if your device doesn't supports vibration then a beep sound will play).
This board app also gives you a great messages manager, in a simple and intuitive way. You can create and maintain unlimited number of messages and save them to use later.
===============
Feature overview:
===============
• Simple, clean and powerful interface
• Adjustable scroll speed
• Gorgeous color selection
• Infinite scrolling text banner
• Super big ON/OFF – power buttons to display banner
• Vibration ON/OFF – bring attention while text finish scrolling
• Repeat ON/OFF – your message scrolling continuously
• Mirror ON/OFF – realistic mirror effect
• Rainbow ON/OFF – beautiful rainbow color effect
• Adjustable font style – Regular, Bold, Italic
• No message length limits
• Easily save and load any text rapidly
=============
Some Handy and Funny Usage Examples:
=============
• Club party – Communicate with your crowd
• Out fishing – Send silent text to your buddies
• Lost each other in the dark? Write a very visible text 'Over here!'
• Running a cafe or restaurant and want to display today's specials in a cool and visible way?
• Business Meeting – Chat with your colleague
• Classroom – Speak with your classmates without the teacher noticing.
All the features that you required are here. So why wait? Grab it now while the sale is still on!