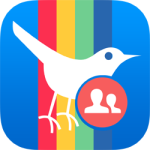 Version: 1.0
Price: Free
Category: Utilities
Tweet Booster – Boost Followers, Retweets and Favorites for Twitter
• SALE SALE SALE – FREE FOR THIS WEEK ONLY •
Want to be popular on Twitter? Tweet Booster can make you a next big Twitter celebrity. You can get thousands of genuine favorites, retweets and followers with Tweet Booster. You can also track new followers and who unfollow you.
How app works:
1. Follow, retweet or favorite to earn coins! The more you favorite, retweet and follow, the more coins you earn.
2. Spend your Coins to promote your tweets to get thousands of followers, retweets and favorites.
3. Done. It's so simple.
The more coins you earn, the more followers, favorites and retweets you can get. It's that easy!
Disclaimer: Tweet Booster is an app in the use of Twitter's exposed API and is not endorsed or certified by Twitter. Tweet Booster is not affiliated with Twitter, Inc.