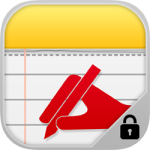 Version: 1.0
Price: $1.99
Category: Utilities
• Secure, protected and synchronized notes •
Best Secret Notes is the easiest way to create a note and stay organized. You can protect your information like store passwords, private thoughts, birthday ideas or anything else you can think of safely using this app. Using Apple's most secure keychain service in this app, your passwords are very safe, and they are stored in the keychain of your device's operating system separately.
It also includes iCloud synchronization! So now it automatically syncs your notes on your iPhone, iPad or any other iOS device easily!
Best Secret Notes app will automatically activate the password login screen whenever your devices are left in the following states, such as lock screen, home button pressed, any phone calls, SMS and wake up Clock etc.
• Protect your private notes with Best Secret Notes
• Safely store and manage unlimited secret collections
• Create new notes, add pictures, and save to the app
• Personal diary on your Device
• Lecture notes, business notes and secret notes
:: Limited 3 notes FREE
:: Photo attachment in each note FREE
:: Share your notes to your friends via Email FREE
:: Support password lock FREE
:: One original theme FREE
:: More than 300 font styles to select FREE
Apps more features:
◆ Simple and effective controls with User-friendly Interface
◆ Add multiple photos in each notes, drag and resize photos within the app
◆ Share your notes via pdf and email
◆ Fastest and better way to search from multiple notes
◆ Sort your notes by date / name
◆ Choose between six great themes
◆ Password and pattern lock system
◆ Backup password or pattern to your email
◆ Support decoy mode to fool intruders
and many more…
BENEFITS from Best Secret Notes
For business purposes
Secret ideas or information
Private journal with pictures and description
Class lecture
Love letter
and many more…