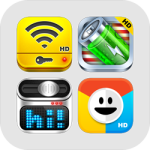 Version: 1.0
Price: $4.99 ($8.96)
Category: Productivity
Ultimate Utilities Bundle – Wifi, LED & Battery Manager
● If you can use it, you can enjoy it with this extraordinary set of easy-yet-powerful apps ●
For economical price the Ultimate Utilities Pack represents the best choice for every user. The bundle consists of four apps – WEP Secure Pro HD – WEP Key Generator, WPA KeyGen & WiFi Random, Battery Plus HD – Maintain & Pimp Your Battery, Smart LED HD – The LED banner app & Magic Mood HD – My Personal Mood Diary & Tracker.
WEP Secure Pro HD allows you to generate encryption key for your wireless network. This keygen generate Wired Equivalent Privacy (WEP) or Wi-Fi Protected Access (WPA) both keys that can be used to secure wireless network. It is easy to use app that generates random WEP or WPA keys used by most wireless routers, simply enter the pass phrase and it will be converted into its hex equivalent, choose the desired security level and one will be generated for you.
Battery Plus HD is an app which can maintain daily battery consumption with correct charge cycles and real-time information of your device's battery. It extends device battery lifespan and reduce drain by following the current battery status, battery optimize, tips in the app. You can view helpful information that indicates for how long the battery power is sufficient for various possibilities of using the device like watching video, listening to music, using Wi-Fi, playing 2d or 3d games, talking, taking pictures and many others for a longer period of time.
Smart LED HD is the perfect companion app which turns your iPad into a beautiful dot matrix L.E.D. running display banner. It enhances the experience with your L.E.D. screen emulator and provides a lot of additional functionality. This application can be very useful to communicate with someone who is far from you. Great for party places, say something to your friends when they can't hear you, as in the disco bar, in classroom, in a business meeting, etc.
Magic Mood HD app is providing personal diary, mood tracker and mood journal to find out how good you are feeling. The app can track & analyze your mood patterns with the help of mood score meter. Magic Mood HD simply chooses between five simple moods that defines your day. It helps you create notes very rapidly. Show the world how you feel by taking photos of your face and sharing your mood details with the social media. It records your mood location to learn where you make feel good or bad.