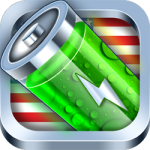 Version: 1.1
Price: 0.99
Category: Utilities
Battery Plus – Pimp Your Battery
Battery Plus is an app which can maintain daily battery consumption with correct charge cycles and real-time information of your device's battery. It extends device battery lifespan and reduce drain by following the current battery status, battery optimize, tips in the app. You can view helpful information that indicates for how long the battery power is sufficient for various possibilities of using the device like watching video, listening to music, using Wi-Fi, playing 2d or 3d games, talking, taking pictures and many others for a longer period of time.
With the help of this application, your device is charged with a three stage system (high speed, continuation and trickle charge) to ensure you get the most out of your battery. It can record your charging log with date and times when using this app. It ensures a proper diet and makes sure that the iPhone or iPod Touch fully passes the charge cycle. Start using this app daily and see the battery life magic on your device.
Battery Plus app provides easy to understand tips and tricks that optimize the usage of your device battery. You can update to new battery theme within this app inside. We've added some attractive battery themes which can easily customize battery textures, color and various country flags!
Discover more functions and feature by downloading it right now! You can use this app as a battery saver to improve the battery life.
===========
Key Features
===========
◘ ◘ ◘ Battery Status ◘ ◘ ◘
• Status of battery lifespan in different useful modes:
Stand-by mode
Talk time on 2G
Talk time on 3G
Internet on Wi-Fi
Internet on 3G
Audio
Video
2D games
3D games
• Indicates how much battery power will be extended if you shut down
Bluetooth
Wi-Fi
GPS Navigation
Brightness
Internet on 3G
◘ ◘ ◘ Battery Charging ◘ ◘ ◘
• Three stages charging cycles (high speed, continuation and trickle charge)
• Supports full charge cycle and maintenance
• Local notification on charge alert with full cycle
• Indicates on the Overcharge of your battery
• Charging log with accurate time and date information
• Option to email and clear charging log history
• Flashlight
◘ ◘ ◘ Theme ◘ ◘ ◘
• Update battery icon theme (only available inside the app)
• Included major countries flags
• Easily customize battery textures and color
◘ ◘ ◘ Tips and Tricks ◘ ◘ ◘
• Tips for adjusting your system settings
• Useful advice on how to extend battery life
◘ ◘ ◘ System Info ◘ ◘ ◘
• Device Information like system boot time, device model, operating system name and version etc
• Runtime CPU usage & CPU load graph
• All running processes and applications list with detailed information
• Memory Usage: display of wired, active, inactive, and free memory
• Total, used and free storage (disk) usage observation
============
Other Features
============
• Retina display, high resolution, pixel perfect graphics
• Easy to use interface
• Tested & Approved on all product models: Supports iPhone 5S, 5C, 5, 4S, 4, 3Gs, iPod 5, 4 and all iPads including iPad mini
• iOS 7 & iOS 6
and much more
Disclaimer
==========
The App can't extend your battery life by programming hardware. However, it provides quick tips to let you apply to an iPhone running iOS 5.0 or later and may help extend your battery life.
==========
If you have any problem, feedback and suggestion, please do not hesitate to contact us, we will answer your questions as soon as possible.
What's New in Version 1.1
– Minor Bug Fixes